The eZip 400 electric scooter is designed for fun and functionality. Manufactured by Currie Technologies, the eZip range are one of the top-selling electric scooters in the USA. This review will provide you with facts, specifications and customer reviews to help you decide if the eZip 400 Electric Scooter is for you.
Review Of The eZip e400 Electric Scooter
Designed for riders of 13 years or older, the eZip 400 offers fun for kids and adults alike, and a commuting opportunity for school or work. With a powerful 400 watt motor that tackles a variety of terrains with ease. the eZip 400 2-wheeled electric scooter will get you there.
With a top speed of 15 mph and a range of around 8 miles, this scooter is well designed. Currie Technologies seem to put a lot of thought into their scooter range. This one features front suspension and a removable seat that can be used for longer journeys.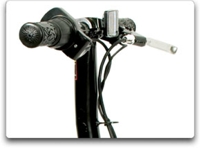 There is nothing flimsy about the Currie Technologies eZip 400. It features a durable steel deck and battery box, a front disc brake, variable speed twist-grip throttle, and excellent low-profile 10-inch street slick tires. Tires are an important feature to look out for, if they are too small you end up getting stuck on all sorts of minor obstacles and the ride is uncomfortable. These scooter tires have a great size and good quality.
Technical Details For The eZip 400 Electric Scooter
Top speed: 15 MPH

Range: 8 miles

Motor: 400W of power from a DC Earth Magnet

Controller: Exclusive Currie PWM Smart Power Microprocessor 24 Volt fully potted, with auto shut-off, relay protection, diagnostics and fuel gauge

Battery: EV Rated SLA Type, Plug and Play Design in Nylon Handled Pack, 24V / 10AH Pack, (2) 12V / 10AH Valve Regulated, Rechargeable

Drive: Patented Currie Electro-Drive chain drive system

Brakes: Front disc brake with power modulator and alloy brake inhibit lever

Wheels: Currie polished alloy wide mag wheels

Tires: 10-inch Currie low profile street slick tires

Deck: Non-slip ABS resin with in-mold graphics and brand logo badge

Weight: 52 pounds

Maximum rider weight: 240 pounds

Backed by 90-day manufacturer's warranty

Handlebar: Exclusive Currie folding design–lay forward bars
What Other People Say About The eZip 400 electric scooter
When looking to buy any product, customer reviews offer a really good insight into the advantages and possible limitations of the product. Here at Scooter Reviews, we show you a cross-section of customer feedback and ALL customer reviews for the model in question. This ensures you can look at the good and the bad for any scooter, not just a polished view.
Here is what some buyers said………
Ace Traveller
Very Nice! – – My kids have ridden them almost non-stop. So far the only issue we've had is the kickstands have broken on both of them but they've been tanks in terms of build quality otherwise (they've crashed a few times). I was surprised with how much power they have and even move my 200 lb frame quickly on everything but steep inclines.
MomInMN – Minneapolis
Great Scooter For The Money! — I purchased this scooter for my 13 year old son and he LOVES it! The scooter was extremely easy to assemble and is very sturdy. The battery charges easily and allows him to travel for roughly eight miles per charge. The top speed is 15mph which is fast enough for him to have fun without worrying his Mom too much! It does great on hills and zips right along on flat surfaces. My son and I are both very happy with this purchase!
If you would like to see ALL the reviews for the eZip 400 electric scooter, follow THIS LINK
As you can see, the eZip e400 is a good buy, with most owners thinking it is great value for money.
Any Negatives?
If you read the reviews, you'll find that some people have an odd complaint. One person appeared to have a dodgy battery or charger, but the Amazon returns policy ensured they could get a full refund. Great for peace of mind.
Arnold A. Jones: Your go-to source for electric scooters, hoverboards, and skateboards, Bicycles! Riding enthusiast and expert sharing tips, trends, and insights for riders of all levels. Stay in the know with Arnold's expertise.