The eZip 500 Electric Scooter is one of the most popular electric scooters in its price range and that too with a good reason. Here is our no-frills review of the eZip 500.
Ezip 500 Electric Scooter – Product Features At A Glance
The Ezip 500 electric scooter combines all that is good in electric scooter design. A 500-watt magnetic motor allows for a top speed of around 15 miles per hour with an 8-mile range on a single charge. Ideal for urban commuting or just for fun use.
eZip 500 Electric Scooter The ezip electric scooter is designed for use by people of 13 years and older and features 12.5-inch alloy wheels with street slick tires. It can carry a 240-pound capacity load, so it suitable for both teenagers and adults alike.
The eZip 500 is easily stored and features folding handlebars to allow storage in tighter spaces.
Designed by Schwinn, the eZip 500 electric scooter features some pretty advanced technologies. The charging system is a Currie Technologies smart charger with an LED status display and charges a 24 volt 10 Ah battery pack. The tough steel frame and forks included hi-tensile steel in the frame and an oversized headtube and steel battery box, making this a scooter that can go places and not let you down.
Check Price On Amazon
One of the best places to evaluate whether an electric scooter is really worth buying is from owner reviews.
Here is a selection of eZip 500 reviews that we've tracked down on Amazon.
IALS – Spokane, WA
This electric scooter is great. Actually this is my second one of this kind. It doesn't get any better. A++. Rode it from/to work for several months. Not much electricity consumption. Little slow on hills. My weight is around 180 lbs + backpack. I definitely recommend it.
AAA – Mt Pleasant, PA
This was purchased by my 9 year old daughter with her savings after her 11 year old brother received one for his birthday. They Both love their scooters and my husband and I have fun riding them around as well! The charge is just fine and the speed is perfect. They are made very durable and there's not one thing I can complain about. The kids ride them every day and just throw them on the charge when they're done so they're always ready. We have not run out of battery time at all. This is a fantastic toy for all to enjoy.
Aloha – Hawaii
This is a great scooter for getting around the campus and down to the store and back. It seems strong and sturdy and runs great. I does have a little trouble getting up the mountain, but I can coast down and save the battery. I have noticed that it shuts off sometimes when going over speed bumps or something for reasons unknown to me, but I just turn the switch off and back on again and it takes right off. Sometimes this is an inconvenience, but it is still a great scooter. I would certainly buy another and another.
So what about the negatives?
Having done a lot of research on the Ezip 500 Electric Scooter, most people think it's pretty good value. A few comments on the battery not holding it's charging, but that is typical for almost all scooters, you're always going to get the odd bad one. Amazon has an exceptional customer service and always do their utmost to ensure total customer satisfaction.
eZip 500 electric scooter alternative
The eZip 500 electric scooter has been unavailable for a while. However, here are some excellent substitutes for the eZip 500 electric scooter that offer a highly smooth riding experience.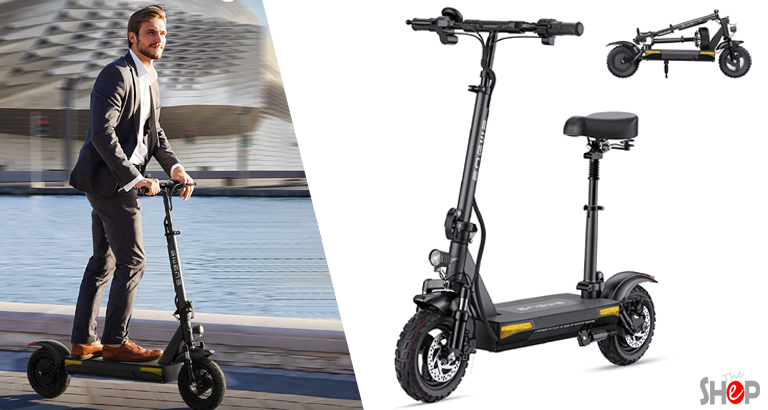 ENGWE Electric Scooter for Adults
Quick Features
The ENGWE Electric Scooter for Adults is an attractive, appealing e-vehicle with excellent performance, convenience, and style. The powerful 500W brushless motor, with a maximum output of 700W, delivers a fantastic riding experience that can reach up to 28 MPH speeds, making it one of the best adult scooters. The large 48V 15.6AH battery offers an extended range of up to 37 miles on a single charge. This e-scooter with a seat is a decent option for daily commutes or leisurely rides.
The 10-inch wide vacuum tires combine with a dual suspension system to provide a smooth and comfortable ride on both even and uneven terrains. A smart LCD keeps the rider informed with real-time information on speed, battery life, and mileage throughout your journey.
The scooter's foldable kickstand and seat make it easy to store and transport. The soft seat with 9.4 inches wide deck helps to reduce fatigue during long riding sessions.
One of the most outstanding features of this e-scooter is its non-slip deck providing maximum safety and stability for those seeking reliable and safe transportation. The aluminum frame is lightweight and durable, ensuring the scooter can withstand daily wear and tear.
I liked the adjustable handlebar height, and the foldable design makes it customizable to your preferences and easy to carry around. There are three riding modes, including first gear (regular mode, 0-15km/h), second gear (Eco mode, 16-30km/h), and third gear (sports mode, 30-45km/h). You can easily adjust the speed according to your riding style and needs.
The ENGWE Electric Scooter for Adults comes with lights on the front and back for improved visibility and safety during nighttime rides, which is an excellent addition to an already impressive scooter. This e-scooter features a sensitive front and rear braking system. The braking system ensures a safer ride, giving e-scooter riders the confidence to take on any terrain or traffic conditions without worrying about safety.
Other notable features include a headlight, brake light, colorful luminous lights, and four turn signals for night riding. Thanks to the durable aluminum frame, it can easily facilitate rider weight up to 264 lbs. Last but least, the scooter is backed by a one-year manufacturer warranty.
Pros
All-terrain puncture-resistant tires
Wide anti-slip deck
Multiple suspensions for smooth riding
LCD digital display
Foldable and portable design
Cons
Check On Amazon
Here you can see some best electric scooters for adults
Arnold A. Jones: Your go-to source for electric scooters, hoverboards, and skateboards, Bicycles! Riding enthusiast and expert sharing tips, trends, and insights for riders of all levels. Stay in the know with Arnold's expertise.